Listen to the Promo Spots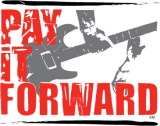 "Pay It Forward" is used to describe the concept of asking that a good turn be repaid by having it done to other instead.
This year the Fund adopted the theme "Pay It Forward" and was the Fund's way of continuing to include those who have so generously contributed to the success of The Fund.
All previous winners, sponsors, family and friends were eligible to nominate up to 5 bands. From the more than 25 bands nominated, eight semi-finalists were selected by the surviving members of Ryan's band, Dismal.