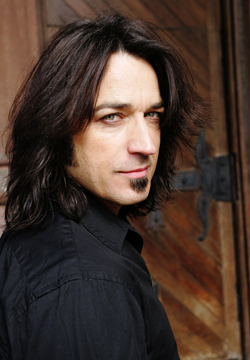 RJL Memorial Fund Confirms Singer/Songwriter, Michael Sweet of the Bands Stryper and Boston to join the Judges Panel at the 7th Annual Battle of the Bands
Celebrity judges now beginning to bench; the legendary front man, writer & vocalist of Stryper and former Boston member, Michael Sweet. Renowned radio broadcaster & television producer; the Dunes 102.3's own Ron Robin. Internationally awarded percussionist & designer of the MV Vader drumstick, Martin Vazquez. Barnstable County Fair will host the 7th Annual Battle of the Bands on Monday, July 23rd, 2012.
East Falmouth, MA, May 18, 2012 - Bands will battle it out in front of a panel of judges which in the past have included such high-profile names as football star and musician Doug Flutie; recipient of multi RIAA awards, record producer Anthony J. Resta; international award winning percussionist Martin Vasquez; WZLX disc jockey Carter Alan; lead singer for Stryper Michael Sweet and former drummer for Extreme and agent to Smashing Pumpkins and Godsmack, Paul Geary.
For the past six years the RJL Memorial Fund, a registered 501(c) (3) charity has championed the advancement of talented, low-income, unsigned, original musicians in an annual battle of the bands. The grand prize, worth thousands of dollars, includes funding needed to record original music and promotional assistance in recording, producing, replicating and distributing a professionally illustrated demo CD
Band registration is now open through June 15th, 2012. Bands must apply online at www.rjlmemorialfund.org.
The Ryan J. Lariviere Memorial Fund was established in 2003 and honors the life, talent, and musical passion of an aspiring young musician who lost his life at age 21 in an auto accident.
WHAT: 7th Annual Ryan J. Lariviere Battle of the Bands
WHERE: Barnstable Fairgrounds, 1220 Nathan Ellis Hwy, Rte.151, East Falmouth, MA
WHEN: Monday, July 23, 2012 - 4 p.m. to 9 p.m.
Website: www.rjlmemorialfund.org
For more info use our contact page:
Select "Public Relations" in the categories field