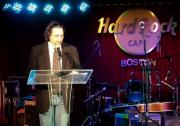 Joe G Co-Founder of The New England Music Awards
New England Music Awards Co-founder Joe Graham (JoeG) to Join the Judges Panel at the 7th Annual RJL Memorial Fund Battle of the Bands at Barnstable County Fair.
Joe G will join our panel of celebrity judges; the legendary front man, writer & vocalist of Stryper and former Boston member, Michael Sweet. Renowned radio broadcaster & television producer; and owner of the Dunes 102.3's , Ron Robin. Internationally awarded percussionist & designer of the MV Vader drumstick, Martin Vazquez. 
"JoeG is one of those guys that you know are there, but rarely hear about. He's a guy that's right in front of you, doing just about everything - producing records, TV spots, writer, promotions and PR for Artists, keeping the uninformed informed, and more – that's not to mention being the host of Droppin' knowledge. These two epitomize the industry that surrounds local music; its talent and its work ethic."
see the rest of the story  --  "Promoting Local Music for More than 50 Years" ~ via The Examiner